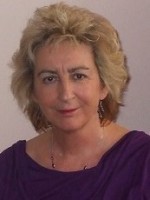 I am a highly experienced Counsellor & Psychotherapist and EMDR Practitioner, with a medical background as a nurse.
I offer Counselling, Psychotherapy, Cognitive Behavioural Therapy (CBT), EMDR Therapy (Eye Movement Desensitisation and Reprocessing) and Life Coaching.


What can I help you with?
Stress related problems
Anxiety
Depression
Relationship problems
Negative thinking
Feeling overwhelmed or not coping
Low mood
Anxiety related issues
Grief, bereavement or loss
Trauma
Difficult emotions
Sleep problems, nightmares, fears or worry's
Work, career or work-life balance
Low confidence / self-esteem
Clarity and decision making
Physical, emotional or sexual abuse
& many other types of issues..                                    
Click on links below for lots more information:

Counselling & Psychotherapy
Cognitive Behavioral Therapy (CBT)
Life Coaching
EMDR Trauma Therapy
Complementary Therapy
Hypnosis / Regression Therapy
About me and my Practice

Following spinal injury and subsequent surgery, I left the field of nursing, during recovery  benefiting from therapy.  The benefits received, encouraged me to retrain to help others in a similar way.  My experience has been formed spanning 40 years in the caring sector with nurse medical background, rigorous training, much ongoing professional development, my own batch of life experiences and listening to the numerous accounts of others.
I work in an integrative, non-judgemental way, confidentially assisting you to overcome issues preventing you from leading a fulfilling happy life.  It can be good to talk to someone not directly involved in your life, helping you see things more clearly, make sense of them and often form different perspectives. This can be most self-empowering for you.
My passion is to help clarify those aspects that cause distress, confusion or anger, that lead you to feel stuck, and desperate. Exploring our options and choices helps come to terms with issues, enabling handling life's challenges with renewed confidence.

I also have advanced training in trauma therapy as in EMDR. EMDR helps dissipate painful memories or emotions from the past which continue to trigger you in present day, and when used in the hands of an experienced practitioner, can have profoundly favourable affects utilising only, your own minds natural healing processes.
"Maybe you are struggling to make sense of things…. I feel sure I can help you to break through and reach understanding….  Don't worry if you are uncertain which therapy can help you as we can work that out together.  I can advise and help to plan your way forward.  Everyone is unique and individual, having different needs or requirements.  Often following sessions, people feel a sense of relief, as it might of been the first time they have been able to voice or express their feelings"…

Qualifications & Skills
Integrative Counsellor  & Psychotherapist (Dip. Higher National Diploma Counselling)
Cognitive Behavioural Therapy Practitioner (CBT) (MBACP)
EMDR Therapy Practitioner  (Dip. EMDR)
Life Coach (Dip. Life Coaching)
Transactional Analysis (Dip. Transactional Analysis)
Gestalt Therapy (Cert. Gestalt Therapy)
Ex Registered Nurse
*I am also trained in Complementary Therapy, (hands-on approach such as Craniosacral Therapy

Professional Associations / Memberships
Registered Member British Association of Counselling and Psychotherapy (MBACP)
Member International Association of Healthcare Practitioners (IAHP)
Member National Counselling Society MNCS (Accred)

Additional Benefits Offered
"Uniquely, individual tailored plan of care"

"Supportive, Confidential, Comfortable Environment"

'Free Accessible parking'

"Free 15 mins no-obligation Consultation
Phone or Text: 

(SOA)  07827 966031

 

 

or

:  

(01789) 269631



    Email:   angie4wellbeing@hotmail.com
"Click on Logo below for loads more information"


"Remember we have to put our own oxygen mask first before we help others"